"I'm inspired by people who are challenged and all odds are against them, yet they strive to live their dreams."
When the announcement was made that the CSU had selected Lynnette Zelezny, Ph.D., as the next president of California State University, Bakersfield, hundreds and hundreds of e-mails of congratulation started streaming in to the new leader.
One in particular stood out. It said simply "Smashed." "That one gave me a big smile because it was referencing the moment that smashed a glass ceiling," Dr. Zelezny says.
That's because Zelezny's appointment in July 2018 was a tipping point: For the first time, the majority of presidents at the CSU's 23 ​campuses were women.
While the former social psychologist welcomed the attention and warm wishes, she still describes herself as "an off-the-scale introvert. I prefer quiet, to think and to listen," she says.
And she'd love to debunk the myth that only extroverts know how to lead: "I want to speak to all introverts who say, 'I can't be a leader.' We need you; you bring a unique set of leadership skills," she says emphatically. "Abraham Lincoln was an introvert who brought his ability to listen and to be empathetic to the table."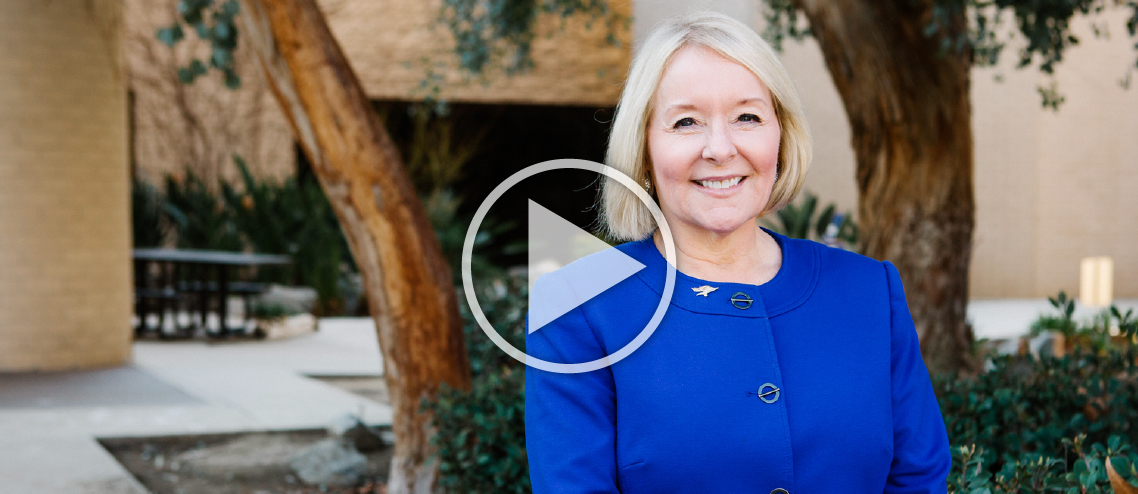 Zelezny's early years were nomadic. The family moved often for her father's work as a contract aerospace engineer. But she found that her role as the perennial "new girl" served her well; it gave her the ability to parachute into any situation and begin building relationships.
"One of the earliest childhood memories I still carry with me is watching my dad do math calculations with a slide rule," she recalls. "He told me, 'We're figuring out the math of how to get man to the moon and back.'
"So when people say to me, 'What you're asking us to do is impossible,' I tell them, 'Well, my dad could get man to the moon and back with a slide rule. I think we can do this.'"
The skills Zelezny learned at Humboldt State University while earning her bachelor's and master's degrees in psychology are ones she still uses daily. "Being a social psychologist is a great background for a university president because we reframe problems into opportunities to overcome challenges and achieve success," she explains.
In addition to being the first female president of CSUB, Zelezny is also the first CSU president to benefit from the Chancellor's Doctoral Incentive Program, a program administered by the Chancellor's Office to increase the number of faculty with the qualifications and skills needed to teach at the CSU.
Prior to joining CSU Bakersfield, Zelezny served for 30 years at Fresno State in roles that included associate provost, dean and associate vice president in continuing and global education, associate dean for the campus's Craig School of Business and chair of the psychology department.
"As a leader, when your job is over, it is your responsibility to have built the next generation of leaders who will be right behind you."
Though still new to her role, Zelezny, a longtime Central Valley resident, knows well the unique opportunities the region affords.
Kern County, where CSUB resides, is one of the country's top producers of energy, including oil and petroleum as well as wind, solar and other alternative energy sources. Governor Gavin Newsom referred to the Central Valley as "a region hungry for investment, a workforce eager for more training and good jobs."
"This is a county with a great need for entrepreneurship," adds Zelezny, who, with her husband, raised three children in the area. "So aligning a cutting-edge curriculum at CSUB with our workforce development is one of our key goals."
Even as she leads the campus into its next era, Zelezny remains mindful of those who will come after her. "I hope I inspire emerging leaders, in particular young women, who will look to me and say, 'Well, if she could become a university president, I can do that," she says. "I hope I inspire them to be courageous and to go for it and be fearless."
Leadership Legacy—On My Radar
By Lynnette Zelezny, Ph.D.
Listen to President Zelezny's essay
My leadership trajectory was generously and graciously touched by my experience in the California State University system.
As an early high school graduate, my college options were limited. A high school counselor recommended that I apply to Humboldt State because of my interest in science and the outdoors. This was very fortunate advice.
My education at Humboldt State was outstanding. My classes were small and taught by impressive faculty. Dr. Mary Gruber taught my statistics course at Humboldt State. She noted my strong interest and offered me an undergraduate teaching assistantship. This high-impact opportunity accelerated my achievement and progress. It also opened the opportunity for me to earn a graduate degree.
My master's degree allowed me to teach as a lecturer at Fresno State. My department chair, Dr. Robert Levine, encouraged me to apply for Ph.D. programs and the California State University Doctoral Incentive Program to position myself for a future tenure-track faculty position. Although the odds seemed slim, I followed his sage advice. Dr. Levine's mentoring was key to my tenure-track position at Fresno State, where I received early tenure and promotion to professor and served as department chair.
Later, Dr. William Covino, then-provost at Fresno State, opened the door for leadership opportunities in administration. He offered me interim administrative assignments like coordinating a national conference of the Coalition of Urban and Metropolitan Universities, and filling in when leaders retired or were promoted. These experiences deepened my leadership portfolio​ that I leveraged to serve as provost and now as president.
My success as a leader is a testament to great mentors that had me "on their radar." Importantly, they recognized my strengths, believed in my potential and gave me the support and opportunities I needed to succeed.
Clearly, one of the most important things we can do every day as leaders is to be intentional about identifying and nurturing future leaders.
With heartfelt gratitude to my mentors, I am passionately committed to continuing their legacy of leadership.
So here's to great leaders! Know that you are on my radar.
A weeklong celebration, CSUB will be conferring President Zelezny with the official powers of the office.
We invite you as a community member, faculty, staff, administrator, and student – to provide us with feedback. Using the form below, please offer your feedback or share any important questions you may have.
---
Your Information (Optional)