When California State College, Bakersfield (CSCB), opened for classes on October 1, 1970, it marked the fulfillment of a twenty-year dream—the dream of a baccalaureate-degree granting institution in the Southern San Joaquin Valley and High Desert. Chartered in 1965 as part of a bill authored by Bakersfield's own Senator Walter Stiern, CSCB became the 19th campus of the CSC system. The first president, Dr. Paul F. Romberg, was hired in 1967. Groundbreaking ceremonies took place on
April 11, 1969, presided over by then-Governor Ronald Reagan. CSCB became California State University, Bakersfield (CSUB) in 1988 during the tenure of the third president, Dr. Tomás A. Arciniega.
CSUB is the only four-year-degree-granting campus within a 100-mile radius. It serves a vast region encompassing Kern, Tulare, Inyo, and Mono counties, as well as parts of Los Angeles and Kings counties. The main campus is located on a 375-acre site which was donated to the State of California for the university, a remarkable demonstration of the community's commitment to and support for the institution. A satellite campus in the Antelope Valley serves close to 1,000 students.
CSUB awards bachelor's degrees in 31 subject areas. The master's degree is awarded in 22 subject areas. Some 7,755 undergraduate and graduate students attend CSUB at either the main campus in Bakersfield or the satellite campus in Antelope Valley. There are over 27,000 living alumni, 70% of whom continue to reside in our service region.
CSUB is distinguished by an outstanding faculty, excellent academic programs, and by the extraordinary accessibility of the faculty to students. Small classes and close interaction between students and faculty enhance the learning environment. Over 90% of the tenured faculty earned doctorate degrees in their fields of study. CSUB has the highest percentage of faculty in the CSU with terminal degrees. The student-to-faculty ratio is 18:1.
The university is committed to being a comprehensive regional university and strives for excellence in its four schools: Humanities and Social Sciences; Business and Public Administration; Natural Sciences and Mathematics; and Education. The university is fully accredited by the Western Association of Schools and Colleges. CSUB hosts numerous centers and institutes which promote scholarly research and publication and give students an opportunity to conduct research, as well as provide invaluable scholarly and research resources to the community.
As we celebrate the inauguration of our fourth president, Horace Mitchell, Ph.D., the past will be linked to the future by the themes of Excellence, Partnerships, and Community.
To learn more about California State University, Bakersfield through the years, visit the CSUB History website.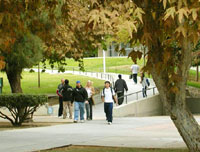 Students on Campus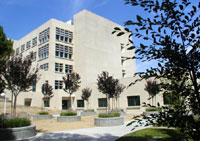 Walter W. Stiern Library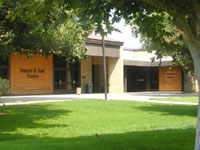 Frances B. Dore Theatre and Todd Madigan Gallery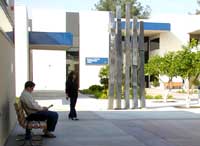 Business Development Center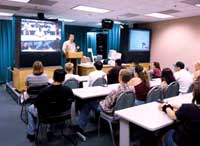 Instructional Television and Distance Learning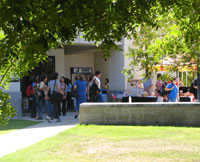 Student Union