Paintings and Photos of Manifest Destiny

---
"Westward The Star of Empire Takes Its Way--Near
Council Bluffs Iowa." (1867). Andrew Melrose
(Passenger Train forges westward with gleaming
headlamp)

---
"American Progress." (1872). John Gast.
(A diaphonously clad "America" with the "Star of
Empire on her brow wends her way westward bringing
civilization and industry in her train)

---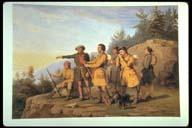 "Daniel Boone's First View of Kentucky." (1849).
William Ranney.

---
"Daniel Boone Escorting Settlers Through the Cumberland
Gap." (1850-510. George Caleb Bingham.
---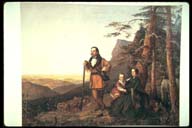 "The Promised Land--The Grayson Family, 1850." (1850).
William S. Jewett.

---