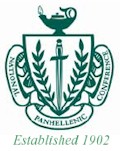 The National Panhellenic Conference
at CSU Bakersfield
Home
Sororities

Pictures

Recruitment
Contact Us

Links

Welcome!

We are excited that you're interested in sorority life at California State University, Bakersfield!





This website is designed to give you more information about the Panhellenic sororities on campus as well as the recruitment process. Formal Recruitment is where it all begins! Recruitment does not obligate you to join a sorority but it does provide interested women the opportunity to learn more about Greek life, meet sorority members, learn about the benefits of sisterhood, and sorority membership. Joining a sorority provides many opportunities to get involved on campus as well as make lasting memories that will continue well beyond your college career.

2010 Formal Recruitment lasts from September 30th through October 3rd. We hope to meet you! If you have any questions please feel free to email the Panhellenic President Amanda Cebell at akcebell@gmail.com.